Click the link below the picture
.
BOCA CHICA, Texas—SpaceX and T-Mobile announced an ambitious plan on Thursday evening to provide ubiquitous connectivity from space to anyone with a cell phone.

The project would pair SpaceX's Starlink satellite technology with the second-largest wireless carrier in the United States, T-Mobile US, and its mid-band spectrum, mobile network, and large customer base.

Delivering space-to-ground Internet to mobile phones will require SpaceX to finalize development of its second generation of Starlink satellites. These will be significantly larger than the current ones, which have a mass of about 295 kg. SpaceX founder and chief engineer Elon Musk said the project could enter "beta service" before the end of 2023.

During a live event at SpaceX's Starbase facility in South Texas, where the company is building and testing its next-generation Starship rocket, Musk appeared alongside T-Mobile US chief executive Mike Sievert. The event had something of a rocket concert flair, with a smoke machine, fireworks, and plenty of people mingling around the stage in black T-shirts. Only, these shirts bore magenta T-Mobile and white SpaceX logos, and three Starship prototypes loomed in the background.

The companies are proposing to deliver a service dreamed about since the advent of mobile telephones—no dead zones. "Our vision is, if you have a clear view of the sky, you're connected," Sievert said.
.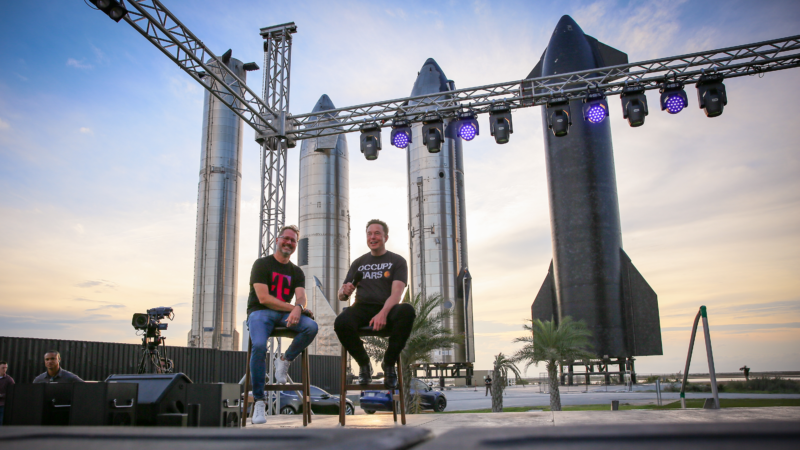 T-Mobile's Mike Sievert and SpaceX's Elon Musk appear on stage at Starbase Thursday evening.
.
.
Click the link below for the article:
.
__________________________________________