Click the link below the picture
.
You've probably seen it: a gorgeous, gorgeous girl posing with a luminous cocktail, or standing outside at golden hour, or draping herself beside some nearby cherry blossom, the dappled light landing on her face just so. Meanwhile, crouched down beside her, head almost scraping the pavement, is a boyfriend wielding her iPhone camera. Snap, snap, snap, he takes photos from different angles, at her instruction. He doesn't know where the photos will end up, but he doesn't care. He is offline, she is online. They are the perfect couple. 

While you may have seen some variation of the phrase "Very offline bf/chronically online gf" before, the offline/online couple is gender-neutral. Crucially also, the offline partner didn't use to be online before "going off social media for mental health reasons". No, the offline partner is just naturally offline, in the way some people are ginger or polyamorous. They still think TikTok is just for dance trends and look at you blankly when you make a joke using a meme format off Twitter. Then, when you explain the meme format, awkwardly thumbing through examples on your screen, they reply with something like, "Ah". You speak two different languages. 

However, like tops and bottoms and doms and subs, the offline/online couple has always worked in symbiosis. The online partner can show the offline one viral videos or explain why their boss keeps saying "vibe shift" apropos of nothing. Meanwhile, the offline partner can remind the online one that there's a world out there, with trees and birds and delicious, un-photographed meals to be enjoyed and then forgotten. They are each other's bridge between both types of life, with neither judging the other. 
.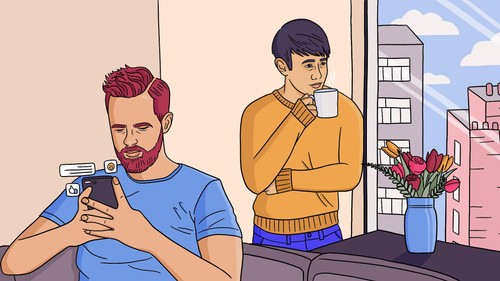 Image: Kim Cowie
.
.
Click the link below for the article:
.
__________________________________________