Click the link below the picture
.
The world's longest aircraft was brought out of its hangar in England over the weekend. But the first thing most people noticed about the Airlander 10, besides its enormous size, was that its front looked like a huge behind.
It's even been nicknamed "The Flying Bum" by the British media, and photos like this probably don't help:

At 302 feet long, the Airlander 10 is 50 feet longer than the largest configuration of the Boeing 747.

The airship was originally developed by the U.S. Army for surveillance; however, the project was picked up by Hybrid Air Vehicles in 2013 after funding ran out.

Once it proves safe to fly, the airship could be used for surveillance, cargo, communications, humanitarian missions and passenger travel, the BBC reported.

The airship was officially named the Martha Gwyn, after the wife of Hybrid Air Vehicles chairman Philip Gwyn, according to the Daily Telegraph. It's filled with 1.3 million cubic feet of helium, and is expected to reach an altitude of 20,000 feet and fly for up to five days at speeds of 90 mph.

Here's the aircraft ― part blimp, part plane ― at Cardington Airfield:

An overlooked past article
.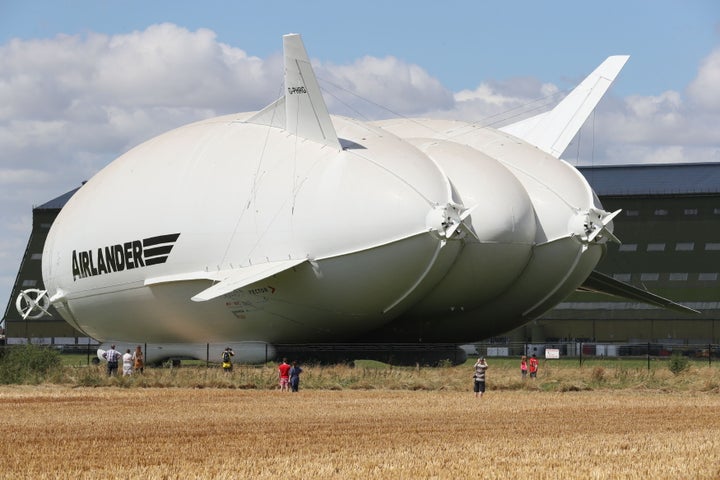 Chris Radburn/PA Wire
.
.
Click the link below for the article:
.
__________________________________________