Click the link below the picture
.
For everyone whoever answered "Astronaut!" to the "What Are You Going to Be When You Grow Up?" question, now is the time to make that dream come true: NASA is "looking for the best candidates to work in the best job on or off the planet," according to a Dec. 14 job post. Until Feb. 18, 2016, all qualifying U.S. citizens may apply to join the National Aeronautics and Space Administration's next class of astronauts on a red planet adventure.

 "NASA is on an ambitious journey to Mars and we're looking for talented men and women from diverse backgrounds and every walk of life to help get us there," said Charles Bolden, NASA Administrator and real, live (former) astronaut, according to the job listing. "Today, we opened the application process for our next class of astronauts, extraordinary Americans who will take the next giant leap in exploration.

"The mission: According to Bolden, "this group will launch to space from U.S. soil on American-made spacecraft and blaze the trail on our journey to the Red Planet," specifically, onboard Orion and two commercial crew space vehicles. 

"NASA astronauts will again launch to the International Space Station from Florida's Space Coast on American-made commercial spacecraft — Boeing's CST-100 Starliner and the SpaceX Crew Dragon. These spacecraft will allow NASA to add a seventh crew member to each station mission, effectively doubling the amount of time astronauts will be able to devote to research in space, expanding scientific knowledge and demonstrating new technologies," Bolden said in the listing.
.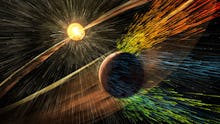 The Stars
.
.
Click the link below for the article:
.
__________________________________________