Click the link below the picture
.
In rare cases, one of life's important childhood lessons — always chew your food properly — becomes fossilized. And now, anyone can own one of these reminders in rock. A specimen containing the remains of a large, predatory amphibian choking on another creature is up for auction in October.
Nearly 300 million years ago, during the Paleozoic Era, this predator attempted to eat another, smaller amphibian. The larger creature died mid-meal with the smaller one's body half-consumed. This type of fossil, in which a predator chokes on its prey, is known as an aspiration.

When a scene like this is captured forever by geology, the value of the fossil goes up, said Jim Walker, director of the nature and science department at the auction house Heritage Auctions. [See Photos of 'Choking Predators' and other Fossils for Auction]

"It affects it to the degree of eight or 10 times without any trouble at all," Walker said. Heritage expects this specimen to sell for between $150,000 and $250,000.

The predator, in this case, is a 28-inch-long (71 centimeters) creature known as Sclerocephalus haeuseri. Artists' representations of it depict an animal that looks like a cross between an alligator and a salamander, with a heavy skull and jaws, a streamlined body with a menacing-looking tail, and eyes on top of its head.
The resemblance to a crocodile or alligator is no coincidence. During the Permian Period — the last period of the Paleozoic lasting from 299 million to 251 million years ago — this ancient amphibian filled a similar ecological role to these modern aquatic predators, Walker said.
.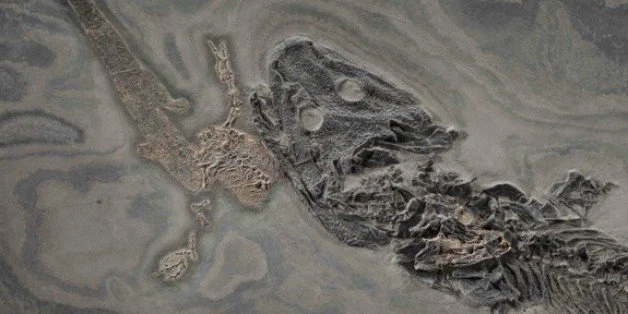 Choking
.
.
Click the link below for the article:
.
__________________________________________