Click the link below the picture
.
Mort Sahl, who died on Tuesday at 94, may be unknown to most people who are younger than half that age, but in his prime in the 1950s, he sparked a revolution in stand-up comedy that persists to this day.

Before Sahl, the headline comics performed on the Vegas strip or the Catskills circuit, reciting jokes—snappy setups and rim-shot punchlines—about wives, kids, and mothers-in-law. Sahl, who made his mark at the hungry I, a dank, dingy nightclub in San Francisco's North Beach district, uncorked discursive monologues on politics and the era's raft of social hypocrisies—the sorts of topics that polite people didn't talk about in public. (Yes, Will Rogers poked fun at politicians, but in a genial manner; Sahl was out for blood.)

Sahl had the look and manner of a hip Berkeley professor, dressed not in a suit and tie but in chinos, a V-necked sweater, and a shirt with an open collar, bounding to the stage with a sly grin, a few newspapers and magazines tucked under his arm. (Many years later, he would teach a course on "the other America" at Claremont McKenna College.) With the cadence of a jazz musician, he would read from some of the articles, commenting sarcastically; digress to another issue; cackle at some improvised observation; then return to the topic after musing, "Now where were we?"

Other, similar comedians and satirists would soon emerge from similar scenes with their own forms of rebellion—Lenny Bruce, Jonathan Winters, Tom Lehrer—but Sahl was the first, the tone-setter, and the most enduringly influential. Without him, it is hard to imagine the likes of Woody Allen, George Carlin, Richard Pryor, Chris Rock, or Dave Chappelle.
.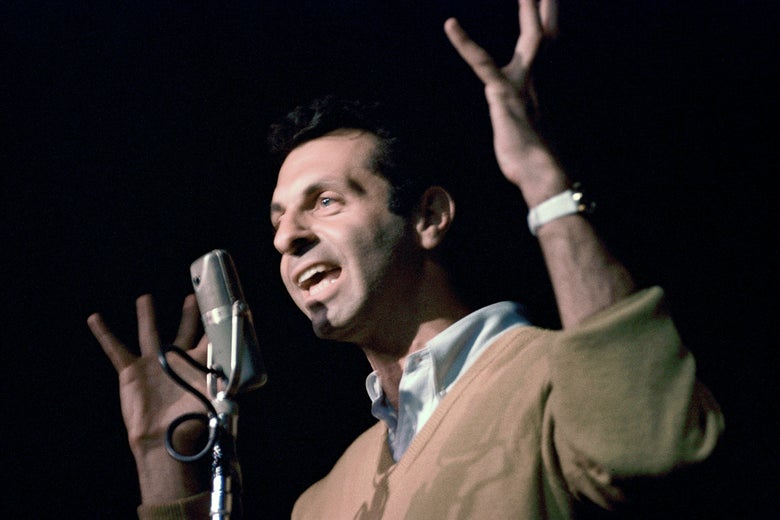 Sahl performing in 1961. MPTV/Reuters
.
.
Click the link below for the article:
.
__________________________________________