Click the link below the picture
.
If you've ever gazed at a  model of the solar system, you've likely noticed that the sun, planets, moons and asteroids sit roughly on the same plane. But why is that?

To answer this question, we have to travel to the very beginning of the solar system, about 4.5 billion years ago.

Back then, the solar system was just a massive, spinning cloud of dust and gas, Nader Haghighipour, an astronomer at the University of Hawaii at Mānoa, told Live Science. That massive cloud measured 12,000 astronomical units (AU) across; 1 AU is the average distance between Earth and the sun, or about 93 million miles (150 million kilometers). That cloud became so big, that even though it was just filled with dust and gas molecules, the cloud itself started to collapse and shrink under its own mass, Haghighipour said.

As the spinning cloud of dust and gas started to collapse, it also flattened. Imagine a pizza maker throwing a spinning slab of dough into the air. As it spins, the dough expands but becomes increasingly thin and flat. That's what happened to the very early solar system.
.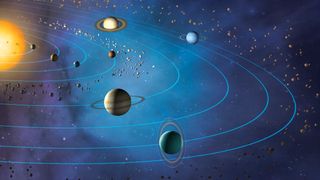 Artwork showing the planets orbiting the sun (from inner to outer): Mercury, Venus, Earth, Mars, Jupiter, Saturn, Uranus, and Neptune. (Image credit: Mark Garlick/Science Photo Library via Getty Images)
.
.
Click the link below for the article:
.
__________________________________________