Click the link below the picture
.
When NASA astronauts return to the Moon in a few years, they will do so inside a lander that dwarfs that of the Apollo era. SpaceX's Starship vehicle measures 50 meters from its nose cone to landing legs. By contrast, the cramped Lunar Module that carried Neil Armstrong and Buzz Aldrin down to the Moon in 1969 stood just 7 meters tall.

This is but one of many genuinely shocking aspects of NASA's decision a week ago to award SpaceX—and only SpaceX—a contract to develop, test, and fly two missions to the lunar surface. The second flight, which will carry astronauts to the Moon, could launch as early as 2024.

NASA awarded SpaceX $2.89 billion for these two missions. But this contract would balloon in amount should NASA select SpaceX to fly recurring lunar missions later in the 2020s. And it has value to SpaceX and NASA in myriad other ways. Perhaps most significantly, with this contract, NASA has bet on a bold future of exploration. Until now, the plans NASA had contemplated for human exploration in deep space all had echoes of the Apollo program. NASA talked about "sustainable" missions and plans in terms of cost, but they were sustainable in name only.
.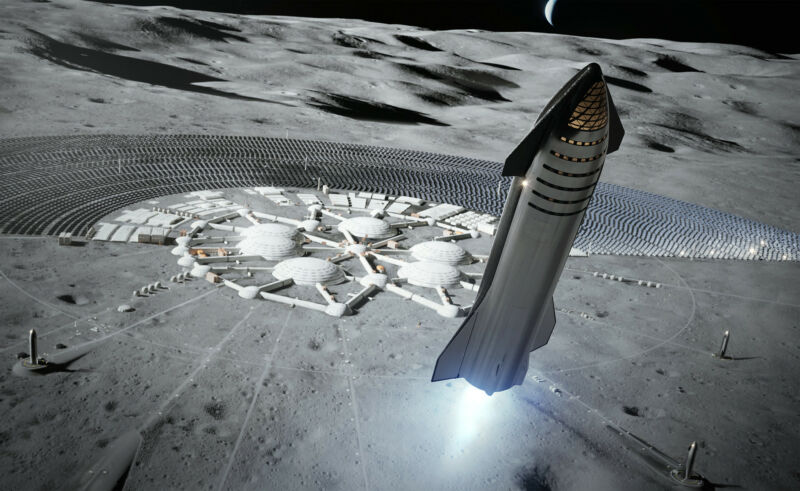 In the future, what might lunar exploration look like if NASA can send multiple Starships there each year? This SpaceX rendering offers a vision of one such future.
.
.
Click the link below for the article:
.
__________________________________________