Click the link below the picture
.
Traveling in a kayak feels like you're tricking the universe. The boat has the impression of being vulnerable because it's so small—an ocean-going boat that you can pick up with one hand. But once you gain some skills in it, the kayak is the safest, most seaworthy boat in the world. The universe thinks that you're out there doing something dangerous, but really you're in total control.

I've traveled the world in a kayak, thousands of miles on many expeditions. I've gone around Cape Horn near Antarctica, through the gnarliest piece of the ocean on the planet, even for big ships. I've paddled from Japan to Alaska, retracing the steps of Stone Age mariners. In 2012, I circumnavigated Ellesmere Island in the Arctic Circle on a 1,500-mile trip.

The thing about the kayak is it puts you in direct, intimate contact with nature. Yachts are great, but a kayak requires personal, tactile skill and interaction with your surroundings. When you're in a kayak, your butt is below the level of the water and waves are washing over your boat, your chest, maybe even over your head. I've paddled past grizzly bears feeding on clams and come eye-to-eye with a gray whale. I've sat on top of a 60-foot wave, then surfed down it in a 65-pound boat.

But that's not where you'll start. You might start on a lake or a stream behind your house. And it's just as fun.
.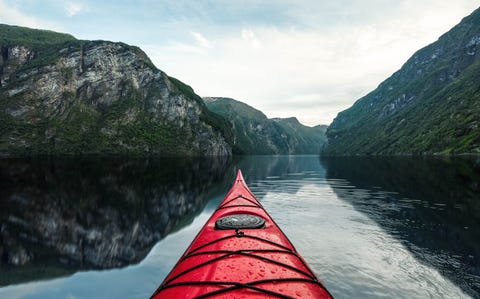 .
.
Click the link below for the article:
.
__________________________________________