Click the link below the picture
.
A new video has surfaced that purportedly shows the Chinese aircraft carrier Liaoning recovering a J-15 strike fighter. The landing is perhaps the first video sourced from outside of Chinese state media to show operations on China's first aircraft carrier.

The video likely comes from someone aboard the U.S. Navy destroyer USS Mustin, which was following the Chinese carrier strike group from a distance.

The date of the video isn't clear. While the voices in the clip are speaking English, most of it is unintelligible. As a J-15 carrier-based fighter lands on Liaoning, a female sailor's voice is clearly heard exclaiming, "Ooh!"

In the video, you can also see a Type 055 warship, which the U.S. Department of Defense classifies as a guided-missile cruiser, trailing the carrier. The camera also focuses on a Type 052D guided-missile destroyer leading the carrier strike group. Both surface warships reportedly broke off from the strike group before the events in the historic photograph showing Mustin's commanding and executive officers watching the fleet from afar.
.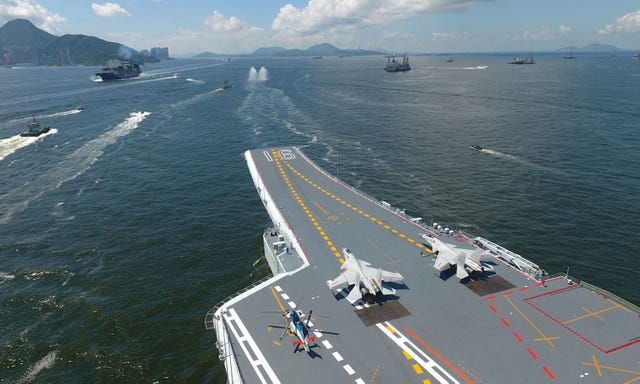 Xinhua News Agency
Getty Images
.
.
Click the link below for the article:
.
__________________________________________