Click the link below the picture
.
The story of the making of the 2000 movie The Emperor's New Groove is actually the story of the making of three movies, only one of which can be legally seen today. First, there is The Kingdom of the Sun, an epic tale incorporating Inca myths, which was to be directed by The Lion King's Roger Allers and would have starred Owen Wilson as a lowly llama herder bound to switch lives with a selfish, vain prince voiced by David Spade. The soundtrack was set to feature a whole series of songs written by Sting. The legendary Eartha Kitt would be the voice of a villainous sorceress determined to blot out the sun.

But after years of production snafus — of doubt-filled meetings and catastrophic screenings and arguments — Kingdom of the Sun was, in a stunning move, shelved. In its place came The Emperor's New Groove, a raucous comedy directed by Mark Dindal, starring Spade as a selfish, vain emperor who involuntarily transforms into a llama and winds up befriending a kindly peasant, this one played by John Goodman. Eartha Kitt remained as the villain, now joined by a delightfully conflicted henchman voiced by Seinfeld's Patrick Warburton. New Groove would ultimately feature only two songs written by Sting — one, a Vegas-style number performed by Tom Jones, and the other, a closing credits song performed by Sting himself (for which he was nominated for an Oscar). Racing against an impossible deadline rumored to be imposed by an impending Happy Meal deal, the final film was, in the words of one its co-creators, the result of the "funniest writers' room you could possibly have. A table of people who had nothing to lose."
.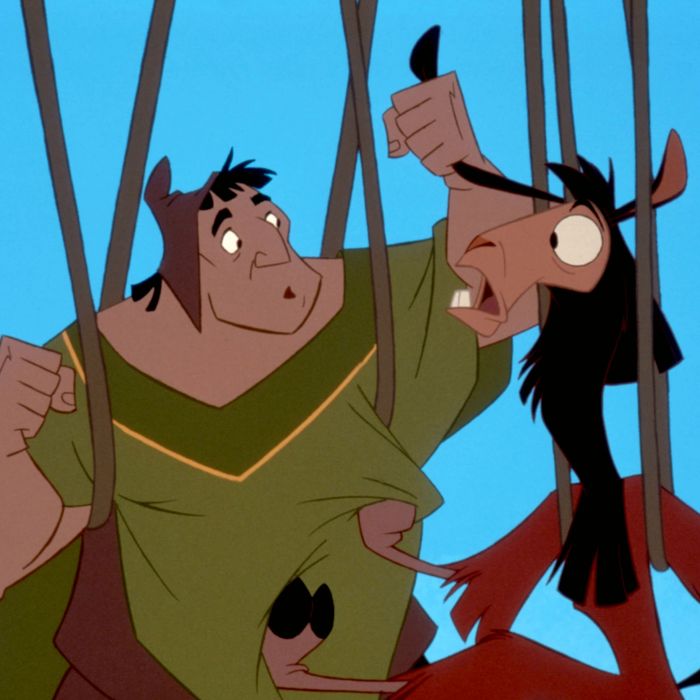 This is the story of one strange moment in animation history, two reluctantly warring teams of animators, and three movies, only one of which you can see today. Photo: Buena Vista Pictures/Everett Collection
.
.
Click the link below for the article:
.
__________________________________________