Click the link below the picture
.
The first thing to say about chess is that we are not all natural geniuses like Beth Harmon, the star of The Queen's Gambit, who is taught the game by grumpy but lovable janitor Mr. Shaibel at the age of nine and is very soon beating him.

The daughter of a maths Ph.D., she sees the patterns and movement in chess immediately, can visualize effortlessly – being able to memorize moves and play without a board is the sign of chess mastery – and sees whole games on the ceiling of her orphanage dormitory. She is a prodigy, just like world champion Bobby Fischer, on whom Walter Tevis based the novel from which the TV series is drawn. We are mere mortals. So how do we get good?

First, by loving chess. "You can only get good at chess if you love the game," Fischer said. You need to be endlessly fascinated by it and see its infinite potential. Be willing to embrace the complexity; enjoy the adventure. Every game should be an education and teach us something. Losing doesn't matter. Garry Kasparov, another former world champion, likes to say you learn far more from your defeats than your victories. Eventually, you will start winning, but there will be a lot of losses on the way. Play people who are better than you, and be prepared to lose. Then you will learn.

If you are a beginner, don't feel the need to set out all the pieces at once. Start with the pawns, and then add the pieces. Understand the potential of each piece – the way a pair of bishops can dominate the board, how the rooks can sweep up pawns in an endgame, why the queen and a knight can work together so harmoniously. Find a good teacher – your own Mr. Shaibel, but without the communication issues.
.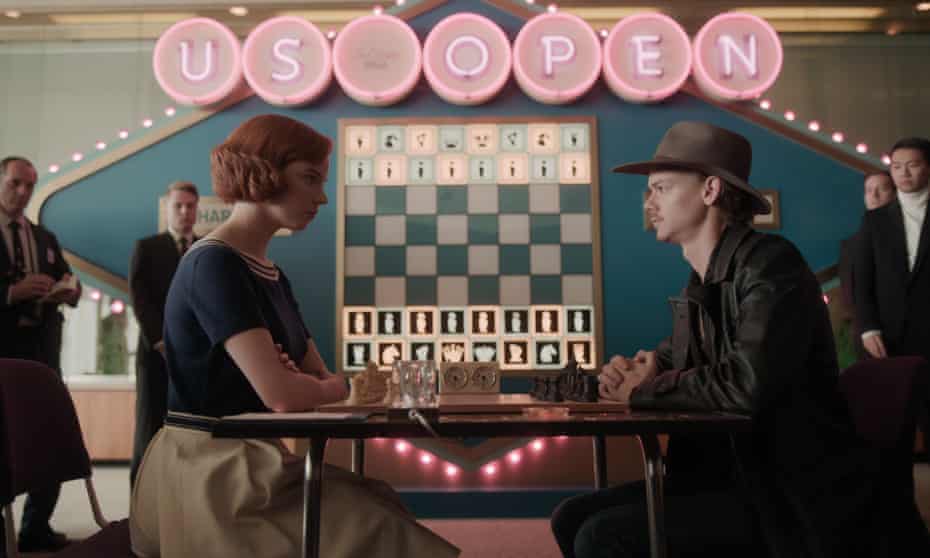 Anya Taylor-Joy as Beth Harmon, and Thomas Brodie-Sangster as Benny, in the Netflix series The Queen's Gambit.

Photograph: Netflix
.
.
Click the link below for the article:
.
__________________________________________