Click the link below the picture
.
Spending time outdoors was fine in June when it might have involved beer, picnic dressing, and socially distanced picnic rugs in the local park. And the outdoors remains vital to life right now, whether that is for a sanity-restoring walk or – depending on where you are in the UK – a meet-up with five friends. But when the temperature is somewhere between 7C and 14C, it takes on a different complexion. Taking rambler Alfred Wainwright's memorable adage that there is no bad weather, only bad clothes, we asked a groundsman, a dog-walker, a professional snowboarder, a National Trust ranger, and others what to wear to keep the heat in and the cold out.

Should you invest in thermals?

Probably. Jenny Jones, an Olympic snowboarder, says: "Your base layer is key because you want something that's close to your body that's going to keep the warmth in. It's all about keeping the middle part of your body [warm], where all your vital organs are." Adrian Brunton has been a groundsman everywhere from Arsenal's training ground to Brighton college. He says the thermal tops that adapt to your temperature are the best. "Under Armour is really good. When you're outside in the cold it keeps you warm and when you go indoors into a cooler environment, it almost feels cool on your skin." Avoid cotton, says Catherine Hadler, a National Trust ranger: "You sweat [when you walk] and that will then chill when you stop. Most thermals are designed so that if you do get hot and sweat, it will kind of wick it away instead of it just sitting there and chilling you."
.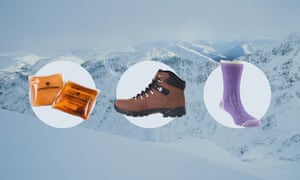 What to wear in the cold. Composite: Ashley Cooper/Alamy; Trespass; GO Outdoors
.
.
Click the link below for the article:
.
__________________________________________