Click the link below the picture
.
The most-watched show on US Netflix, by a huge margin, is the US version of The Office. Even though the platform pumps out an absurd amount of original programming – 1,500 hours last year – it turns out that everyone just wants to watch a decade-old sitcom. One report last year said that The Office accounts for 7% all US Netflix viewing.

So, naturally, NBC wants it back. This week, it was announced that Netflix had failed to secure the rights to The Office beyond January 2021. The good news is that it will still be available to watch elsewhere. The bad news is that "elsewhere", means "the new NBCUniversal streaming platform".

As a viewer, you are right to feel queasy. The industry-disrupting success of Netflix means that everybody wants a slice of the pie. Right now, things are just about manageable – if you have a TV licence, a Netflix subscription, an Amazon subscription and a Now TV subscription, you are pretty much covered – but things are about to take a turn for the worse.
.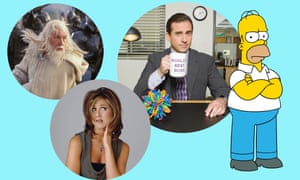 Goodbye to all that … The Lord of the Rings, Jennifer Aniston, Steve Carell in The Office and Homer Simpson. Photograph: NBC/Fox
.
.
Click the link below for article:
.
__________________________________________