Click the link below the picture
.
Hey, I'm Keanu," he introduces himself – unnecessarily, of course, and yet very Keanu-ishly. Despite being so famous his surname has long been superfluous, Keanu Reeves has always given the impression of being utterly unaffected by his own celebrity. He is regularly described by his co-stars as "kind" (Winona Ryder) and "humble" (Laurence Fishburne) and it is easier to imagine him walking on the moon than knocking back champagne with other celebrities on a yacht in St Barts. After all, the most famous paparazzi photo ever taken of Reeves was of him sitting alone on a bench, eating a sandwich out of a plastic bag. Hard to imagine Leonardo DiCaprio doing that.

"I'll sit anywhere you want me to. This OK?" he says, taking a chair and offering me the sofa in the London hotel room where we meet. At just over 6ft, he is taller than I expected – also unusual for an actor – and dressed in a very Keanu outfit of dark shirt and trousers with sturdy boots. Despite being recently announced as the new face of the high fashion label Saint Laurent, Reeves has long been the patron saint of normcore, decades before it became a fashion statement. And I know this all too well because, from 1991–99, I had at least five posters of him on my bedroom walls modelling said look.
.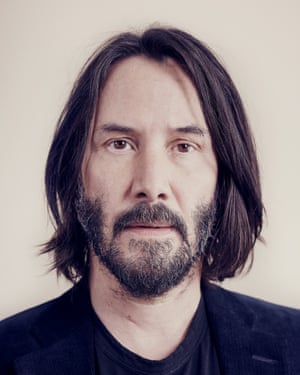 Keanu Reeves: 'We're only getting to tell these stories because of the audience.' Photograph: Kate Peters/The Guardian
.
.
Click the link below for the article:
https://www.theguardian.com/film/2019/may/18/keanu-reeves-grief-loss–bill-ted-john-wick-actor-tragedy?utm_source=pocket-newtab
.
__________________________________________