Click the link below the picture
.
On the last night of February 1986, the Swedish prime minister Olof Palme and his wife, Lisbet, were strolling home through downtown Stockholm. They had taken an impromptu trip to the cinema and decided, as they often did, not to bring bodyguards. Palme made a point of living as much as possible like an ordinary person; he did not want the fact that he was running the country to come between him and his countrymen. "You saw him in the streets all the time," says the Swedish ethnologist Jonas Engman. "You could speak to him. There was an intimacy to it."

At 11.21pm, as the couple walked down Sveavägen, one of Stockholm's busiest streets, a tall man in a dark coat walked up behind them. The man put one hand on Palme's shoulder, and with his other hand fired a single round from a gun into the prime minister's back. He grazed Lisbet with a second bullet before fleeing up a flight of 89 steps that links the main street with a parallel road above.

It was a Friday, and Sveavägen was packed with people ambling between bars and restaurants. Bystanders rushed to try to revive Palme, who now lay on the pavement in an expanding pool of blood. Six minutes later, he was taken to the nearest hospital, where, shortly after midnight, he was officially declared dead. It was later determined that the bullet had severed his spinal cord and that he had died before hitting the ground.
.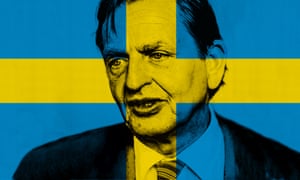 Swedish prime minister Olof Palme
.
.
Click the link below for the article:
https://www.theguardian.com/news/2019/may/16/olof-palme-sweden-prime-minister-unsolved-murder-new-evidence?utm_source=pocket-newtab
.
__________________________________________