Click the link below the picture
.
Around midday on 6 June 2001, locals from Pilar da Bretanha, a parish on the northwestern tip of the Atlantic island São Miguel, saw a white yacht, about 40 feet long, drifting aimlessly near the area's sheer cliffs. None of the villagers had ever seen a boat of this size floating so close to that part of the coast, where the sea was shallow, the tides strong and the rocks razor-sharp. They supposed it was an amateur sailor who had got lost.

In fact, the man sailing the boat was a skilled seaman. Two Italian passports, a Spanish passport and a Spanish national ID card were later found in his possession, all of which showed the same 44-year-old with weathered skin and dark curly hair. But each of the four documents listed a different name. In the previous three months, he had crossed the Atlantic twice, sailing more than 3,000 miles from the Canary Islands, just west of Morocco, to north-east Venezuela, and then back again, to São Miguel, 1,000 miles west of Portugal.
.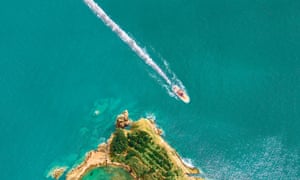 The tip of the Atlantic island São Miguel
.
.
Click the link below for the article:
https://www.theguardian.com/society/2019/may/10/blow-up-how-half-a-tonne-of-cocaine-transformed-the-life-of-an-island?utm_source=pocket-newtab
.
__________________________________________