Click the link below the picture
.
Imagine going to live on a planet where the sun never moves in the sky. No sunrise, no sunset.

Several years ago, I became obsessed with tidally locked planets. The notion of a world permanently caught between two extremes—with one half always illuminated, the other always in the dark—took hold of my imagination. I realized that planets like these were the surest bet in the search for Earth-like places that our descendants could settle on. Worlds of eternal darkness and never-ending sunlight could be the future of the human race—if we're serious about living in other solar systems.

Astronomers believe that most of the planets in our galaxy that have Earth-like temperatures are likely to be tidally locked. Because their orbital period is the same as their period of rotation, these planets will always present the same face to their sun—just as we always see the same side of the moon, as it orbits Earth.
.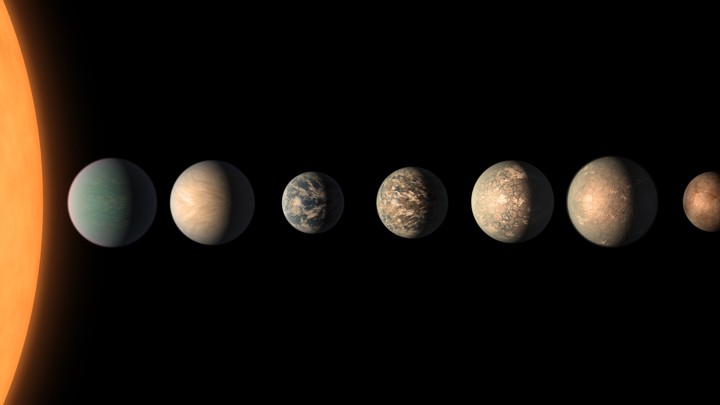 The Earth-sized planets of the TRAPPIST-1 system are likely to be tidally locked NASA/JPL-Caltech
.
.
Click the link below for the article:
https://www.theatlantic.com/science/archive/2019/02/space-colonies-on-tidally-locked-planets/582661/
.
__________________________________________