Click link below picture
.
The 'Dame of Dish' used her southern charm to endear herself to celebrities in a long career marked by scoops about Donald Trump and Woody Allen.

Liz Smith, the syndicated gossip columnist whose mixture of banter, barbs, and bon mots about the glitterati helped her climb the A-list as high as many of the celebrities she covered, has died at the age of 94.

Joni Evans, Smith's literary agent, said she died of natural causes.

For more than 25 years, Smith's column – titled simply "Liz Smith" – was one of the most widely read in the world. The column's success was due in part to Smith's own celebrity status, giving her an insider's access rather than relying largely on tipsters, press releases and publicists.

With a big smile and her sweet southern manner, the Texas native endeared herself to many celebrities and scored major tabloid scoops including Donald and Ivana Trump's divorce, and Woody Allen and Mia Farrow's impending parenthood.
.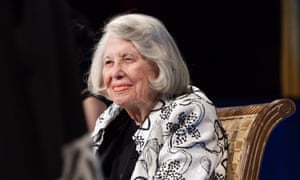 .
.
Click link below for article:
https://www.theguardian.com/media/2017/nov/13/liz-smith-new-york-gossip-column-donald-trump-dies-aged-94
.
__________________________________________