Click the link below the picture
.
Doppelgängers share strikingly similar physical characteristics—they look so alike that, at times, these two unrelated people could easily pass for twins (or, at least, siblings).

Now, new research suggests that doppelgängers have more in common than meets the eye. People with very similar faces also share many of the same genes and lifestyle traits, according to a new paper published Tuesday in the journal Cell Reports.

It may seem obvious that people with similar facial features would also have some of the same DNA, but no one had scientifically proven this, until now. Thanks to the internet, it's now easier than ever for researchers to track down and study doppelgängers.

To understand what was going on at the genetic level among look-alikes, scientists collaborated with the Canadian photographer François Brunelle. Since 1999, Brunelle has been traveling around the world to capture intimate portraits of strangers who look nearly identical to one another for his "I'm not a look-alike!" project.

Researchers asked 32 pairs of Brunelle's models to answer questions about their lifestyles and submit samples of their DNA.

Using facial recognition software, the scientists analyzed headshots of the so-called "human doubles" and computed a score to quantify similarities among their faces. They compared the scores to those of identical twins and found that the software had awarded twin-like scores to exactly half of the doppelgänger pairs.
.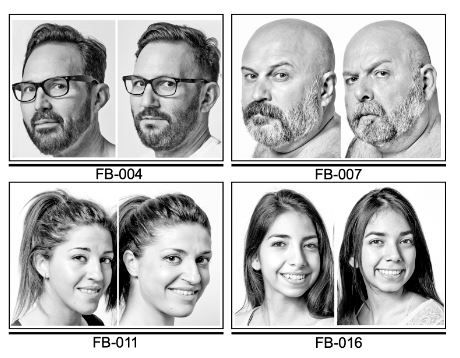 Four pairs of "human doubles" included in the study Courtesy of François Brunelle
.
.
Click the link below for the article:
.
__________________________________________