Click the link below the picture
.
"Given projected growth in consumption, in a business-as-usual scenario, by 2050 oceans are expected to contain more plastics than fish (by weight), and the entire plastics industry will consume 20% of total oil production, and 15% of the annual carbon budget," the foundation wrote in a news release on the paper.

The total amount of plastic already in the world's oceans is immense. A massive patch of plastic waste now sits in each of the world's five oceans, though the vast majority of the plastic remains unaccounted for, and the material does not biodegrade like organic garbage.

Current theories on where the plastic is going include that it is washing back ashore, sinking, breaking down into undetectable pieces or being consumed by plankton and fauna, Vox reports.

Either way, much more of it is coming.

According to Popular Science, in 2015 researchers from the University of California, Santa Barbara, estimated that humans dump somewhere between 4.8 million and 12.7 million metric tons of plastic into the sea each and every year. Study co-author Roland Geyer told the magazine, "Using the average density of uncompacted plastic waste, 8 million metric tons — the midpoint of our estimate — would cover an area 34 times the size of Manhattan ankle-deep in plastic waste."
.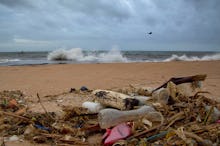 Plastic
.
.
Click the link below for the article:
.
__________________________________________