Click the link below the picture
.
It's no secret that breastfeeding is healthy — not just for babies, but for mothers too. 

And yet for U.S. mothers, breastfeeding a baby is no easy feat. From the lack of paid maternity leave to the rampant stigma against women who breastfeed their babies in public, the breastmilk barriers are numerous.

We could be approaching a tipping point, thanks to a comprehensive two-part Lancet series on the enormous health benefits of breastfeeding. The new papers compiled data from more than 1,300 different breastfeeding studies, some commissioned for this series, according to CNN.

The studies yielded many compelling findings, including this stunning fact: If every mother in the world breastfed her child, more than 800,000 infant deaths could be prevented each year — or 13% of all deaths of children under age 5. Universal breastfeeding could also prevent 20,000 moms from dying of breast cancer each year.

Breastfeeding has a plethora of proven health benefits for babies and their moms. In babies, it's been shown to promote healthy growth, as well as protect against illness such as asthma and lower respiratory infection. In mothers, it can prevent diabetes, heart disease, breast cancer, and ovarian cancer. 
.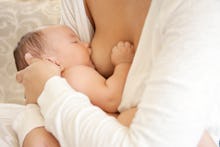 .
.
Click the link below for the article:
.
__________________________________________