Click the link below the picture
.
Just to put it in perspective, it's saltier than the saltiest water on Earth: Antarctica's Don Juan Pond. "Nothing can live in the brine of Don Juan Pond," NASA planetologist Chris McKay, who wasn't involved in the Mars water discovery, told me in an email.
So how are we going to quench our thirst if we do start building condos on Mars? Importing water from Earth is expensive and unsustainable long-term. And trying to imitate the survival steps taken by the stranded astronaut from The Martian — burning oxygen and hydrogen to produce water — would be extremely dangerous. Some have suggested setting up a huge humidifier to extract water from Mars' thin atmosphere. Others think that loading up soil, which contains trace ice crystals, into a heater is the way to go. You could trap the water vapor, then condense it back to a liquid.
But the most effective way to keep us hydrated on Mars will be to tap its freshwater. There's tons of it at the polar caps, according to scientists. The northern ice cap alone is 621 miles across. There's also dust-covered glaciers that wrap around the planet. It's a huge amount of ice — the equivalent of all of Mars being covered in one meter of ice, according to a recent study. That's a nice, stable (though probably non-renewable) source of H20.
.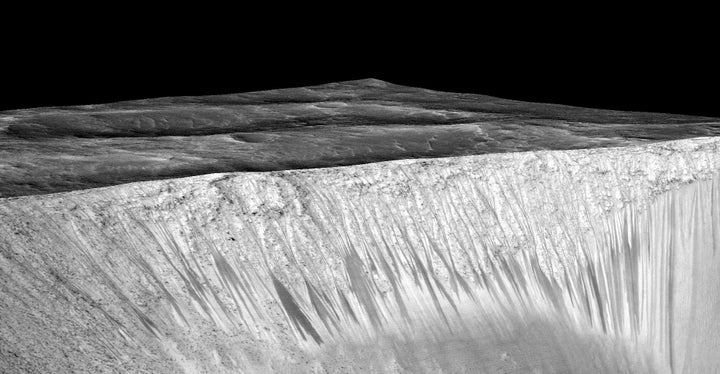 Dark, narrow streaks on the slopes of Garni Crater are inferred to be formed by the seasonal flow of water on the surface of present-day Mars.
.
.
Click the link below for the article:
.
__________________________________________