Click the link below the picture
.
Nobody knows what two Navy pilots and their weapons officers saw while training the Nimitz Carrier Strike Group in 2004: It was white and shaped roughly like a Tic Tac. It mirrored their movements, and then it disappeared, a feat neither pilot can explain. Maybe the object was advanced technology, ours or someone else's. Maybe it was a kind of optical illusion. Maybe — and this is least likely — it was something altogether different, an extraterrestrial visit from an unknown species. Implausible though it is, the possibility excites tremendous interest. 60 Minutes, a venerable media institution, recently dedicated an entire segment to the Nimitz sighting and to other unidentified aerial phenomena. The New Yorker published thousands of words on the subject in April. No longer the province of Ancient Aliens or The X-Files, the UFO has gone mainstream.

Not everyone is pleased by this development. There are real problems to worry about, suggested Emerald Robinson, a correspondent for the far-right Newsmax network. "They want you talking about aliens because they don't want you talking about Maricopa," she tweeted, referring to a bizarre recount of presidential ballots there. "They want you talking about UFOs because they don't want you talking about stagflation, the collapse of the dollar, the crisis on the border, and Biden's mental health." The Maricopa recount is "a sham," as acknowledged by the county's own board of supervisors. The dollar has not collapsed. Biden's mental health appears fine. Who knows who "they" might be; the Deep State perhaps, or some other cabal, but whoever they are, they're unnecessary: Our desire for distraction is organic.
.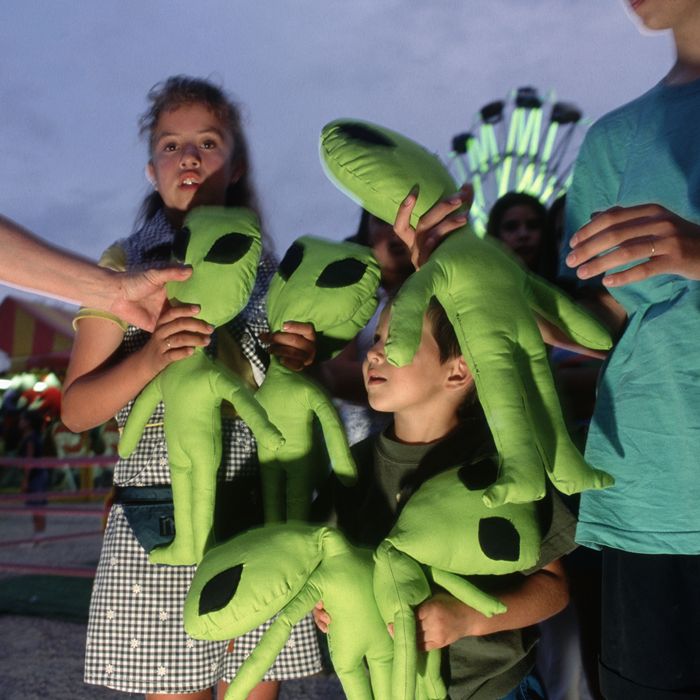 Roswell, New Mexico.
Photo: Mark Peterson/Corbis via Getty Images
.
.
Click the link below for the article:
.
__________________________________________