Click the link below the picture
.
The '60s might be American culture's most relentlessly mythologized decade, and nowhere has that mythmaking industry been more successful than in our collective memory of its music festivals. Woodstock has become a shorthand for the counterculture's zenith, Altamont for its nadir, while Monterey—which featured superstar-making turns by Otis Redding, Jimi Hendrix, and Janis Joplin—was arguably more important than either of the two. The lingering power of these events is inextricable from the films that were made of them: D.A. Pennebaker's Monterey Pop (1968) produced some of the most indelible imagery in all of rock 'n' roll, including Hendrix immolating his Stratocaster at the close of "Wild Thing." Michael Wadleigh's Woodstock (1970) won the Academy Award for Best Documentary Feature and a Best Editing nomination for a young Thelma Schoonmaker (who worked on the film alongside her future collaborator, Martin Scorsese). Albert Maysles, David Maysles, and Charlotte Zwerin's chronicle of the Rolling Stones' free concert at Altamont Gimme Shelter (1970), is often cited as one of the greatest documentaries ever made of any kind. Between them, these movies largely invented the visual language of the rock 'n' roll concert film, ensuring that the events they documented would become objects of fantasy for generations to come.

The 1969 Harlem Cultural Festival, held on six consecutive Sundays throughout that summer, has not generally been spoken of in the same hushed tones as its more storied contemporary counterparts. Ahmir "Questlove" Thompson's new film Summer of Soul (…Or, When the Revolution Could Not Be Televised) goes a long way toward redressing that. The doc shines an overdue spotlight on an enormously successful festival, which provided a powerful musical gathering place for the city's Black and brown populations and offered a showcase for luminaries like Sly and the Family Stone, Stevie Wonder, Nina Simone, B.B. King, the Staple Singers, and Mahalia Jackson.

.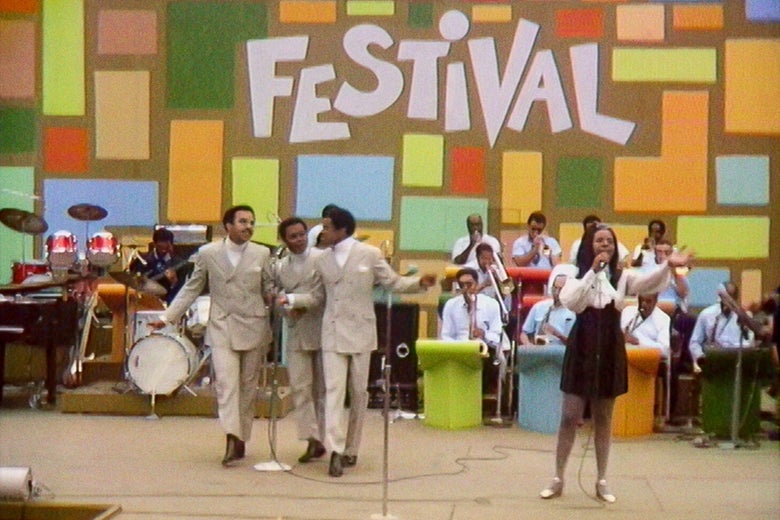 .
.
Click the link below for the article:
.
__________________________________________