Click the link below the picture
.
Last month, government officials in the island nation of the Maldives officially unveiled plans to build the first fully floating island city of its kind. Could the ambitious experiment be a blueprint for how we'll live in the future as climate change continues to raise the global sea level?

As "arguably the lowest-lying country in the world," according to NASA—the average elevation is just 3.3 feet above sea level—the Maldives, an island republic in the northern Indian Ocean, will soon have to rely on sustainable housing. In virtually any simulation of the near future, the over 1,000 individual islands that make up the Maldives will be some of the first to disappear below the rising sea level.

Enter the floating city, appropriately called Maldives Floating City (MFC), which will be built in a lagoon just minutes from Male, the capital of the Maldives. MFC's designers—the Netherlands-based Dutch Docklands, the global leader in floating infrastructure—say the floating city's shape, a series of honeycomb-like hexagonal maze rows is supposed to resemble coral.
.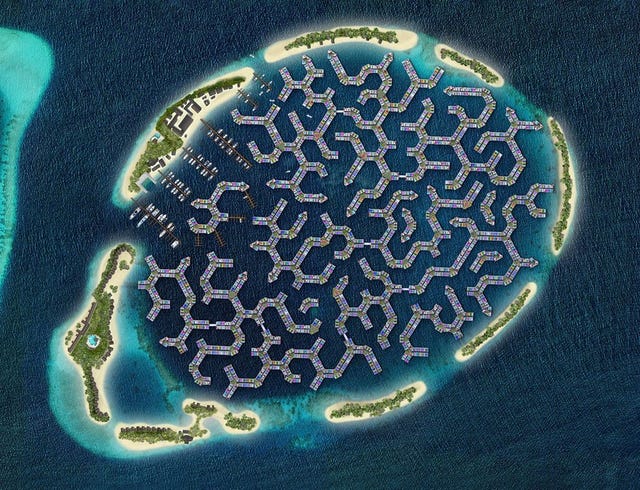 Maldives Floating City/Handout
.
.
Click the link below for the article:
.
__________________________________________