Click link below picture
.
Warning: Major spoilers ahead. Major! You've been warned.

.
Ten years and 19 movies into the ever-ballooning Marvel Cinematic Universe, the fabled Avengers have left their respective dwellings and greeted the interplanetary crusaders whose storylines haven't yet interacted with their own. "There's an Ant-Man and a Spider-Man?" Mark Ruffalo's Bruce Banner, aka the Hulk, asks incredulously in one of the more relatable moments from "Avengers: Infinity War," which opens this weekend to an expected $225 million intake.
At last, all our friends ― the ones whose disparate adventures have yielded "Iron Man," "Thor," "Guardians of the Galaxy," "Spider-Man: Homecoming," "Black Panther" and other assorted tentpoles ― are acquainted. How special. Naturally, there's no better time to kill most of them off.
Except that's only sort of what happens at the end of "Infinity War." After more than two hours of wham-bam chaos, the movie slows to an emotional lull. The culminating battle royal results in the deaths of Black Panther, Spider-Man, Bucky Barnes, the Scarlet Witch, Doctor Strange, Star-Lord, Groot, Drax, Falcon, Mantis, Nick Fury and Maria Hill, each of whom dissolves into a pile of dust at the hands of a purple colossus named Thanos. The how and why hardly matter. What matters is that the final 20 minutes are meant to be a gut punch, testing the tear ducts of Marvel disciples who've waited so long to see the OG Avengers collaborate with the franchise's rookies. Their wishes are granted and denied in the same fatal breath.
.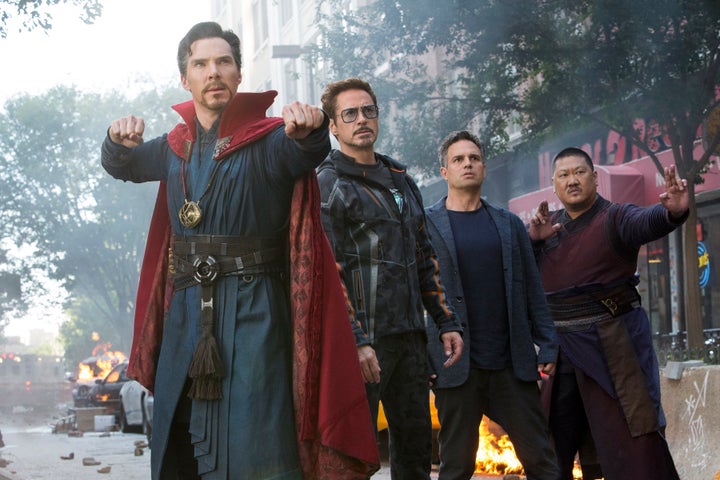 .
.
Click link below for article:
https://www.huffingtonpost.com/entry/avengers-infinity-war-ending-is-dumb_us_5ae201e5e4b04aa23f20d4a5
.
__________________________________________