Click link below picture
.
More than 6,700 Rohingya Muslims, including at least 730 children under the age of five, were killed in the first month of a crackdown that started in August in Myanmar's northern Rakhine state, according to Médecins Sans Frontières.

The figures released on Thursday by the humanitarian agency are believed to be a conservative estimate and far exceed Myanmar's official death toll of 400.

"The numbers of deaths are likely to be an underestimation, as we have not surveyed all refugee settlements in Bangladesh and because the surveys don't account for the families who never made it out of Myanmar," said Dr Sidney Wong, MSF's medical director.
.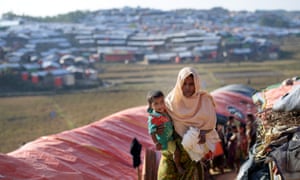 .
.
Click link below for article:
https://www.theguardian.com/world/2017/dec/14/6700-rohingya-muslims-killed-in-attacks-in-myanmar-says-medecins-sans-frontieres
.
__________________________________________