Click link below picture
.
Arkansas has carried out its fourth execution within a week, bringing to a troubling end the state's controversial attempt to run a "conveyor belt of death" in an aggressive burst of killings unseen in the US for more than half a century.

Kenneth Williams was pronounced dead at 11.05pm local time at the end of a 13-minute lethal injection that resulted in disturbing signs of distress on the part of the prisoner.

Eyewitnesses in the death chamber reported that his whole body shook with 15 or 20 convulsions just minutes into the procedure, and that he continued to breathe heavily even after a paralytic was injected into him to render all movement impossible.

After the killing was completed, the Republican governor of Arkansas, Asa Hutchinson, the architect of the state's controversial schedule of quick-fire executions, proclaimed that "the long path of justice ended tonight. Arkansans can reflect on the last two weeks with confidence that our system of laws in this state has worked".

But observers were left with anything but confidence in the state's ability to conduct humane executions as doubts continued to dog the week's proceedings. Those doubts are certain to deepen after Thursday night's killing, if the eyewitness accounts are any indication.
.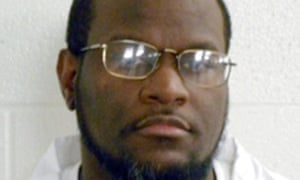 Kenneth Williams' attorneys have appealed to US supreme court to stop his execution on grounds of intellectual disability. Photograph: AP
.
.
Click link below for article:
https://www.theguardian.com/us-news/2017/apr/27/arkansas-executions-kenneth-williams-fourth-final
.
__________________________________________