Click link below picture
.
I'm Spartacus!" – "I'm Spartacus!" – "I'M SPARTACUS!" Every film buff knows that moment, every panel-show comedian riffs on it. A mob of defeated slave rebels in the pre-Christian Roman empire is told their wretched lives will be spared, but only if their ringleader, Spartacus (Kirk Douglas), comes out and gives himself up to be executed. Just as he is about to sacrifice himself, one slave, Antoninus (Tony Curtis) jumps up and claims to be Spartacus, then another, and another, then all of them, a magnificent display of solidarity, while the man himself allows a tear to fall in closeup.

This variant on the Christian myth – in the face of crucifixion, Spartacus's disciples do not deny him – is a pointed political fiction. In real life, Spartacus was killed on the battlefield. The screenplay was written by Dalton Trumbo, the blacklisted author who had to work under aliases and found no solidarity in Hollywood. Yet Douglas himself, as the film's producer, stood up for Trumbo. He put Trumbo's real name in the credits, and ended the McCarthy-ite hysteria.
.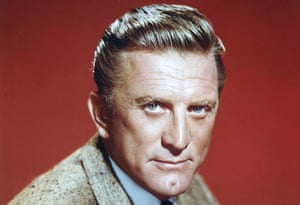 Kirk Douglas. Photograph: Sunset Boulevard/Corbis via Getty Images
.
.
Click link below for article:
https://www.theguardian.com/film/2016/dec/09/kirk-douglas-at-100-one-man-hollywood-mount-rushmore
.
__________________________________________